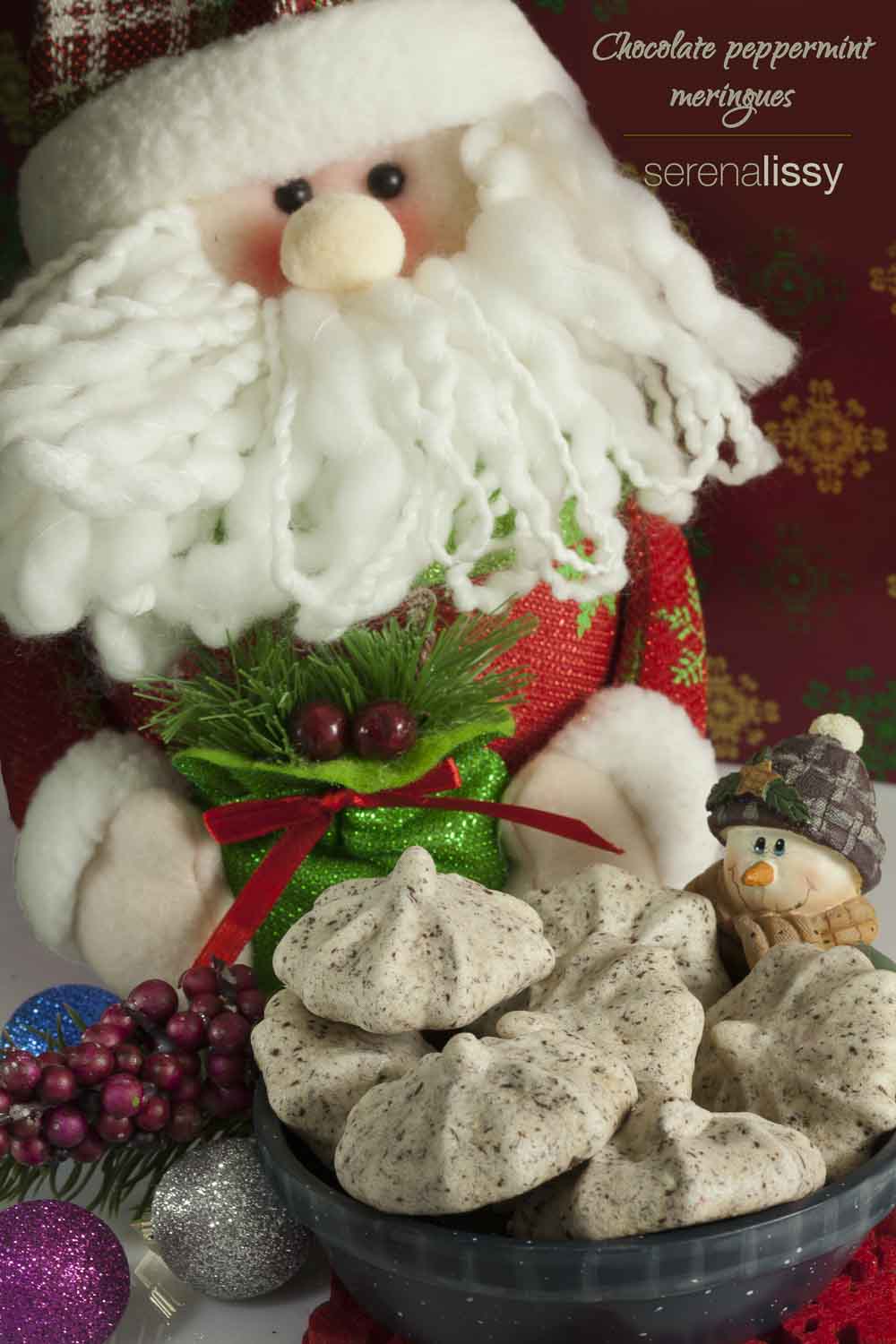 Christmas is just a short two weeks away. There are so many holiday parties and get togethers going on. We thought this would make a great holiday gift for your hostess or could even be great just as a dessert for your party. Or shoot, who am I kidding, I make them for myself sometimes at home just to have in the mornings with my coffee. And I will say, these go great with coffee and will soon become one of your favorite Christmas cookie recipes.
There is nothing hard about these meringues. I piped them with a Wilton star tip to get this shape. Anything close to this will work. Use whatever you have. When I was developing the recipe, I didn't even bother with the visual and just spooned the meringue out onto the pan. If that's all you can do, they still turn out beautiful. They are just a bit more rustic. My tip would be to keep them small. Meringues are crumbly, so the larger they are the messier it is to eat them.
Now for the chocolate, use the best you have laying around. Chips won't work because you will need to use a grater and grate the chocolate into little shavings. For the peppermint, I used a half of a candy cane. I put it in a Ziploc bag and smashed it with a rolling pin to powder basically and measured out a tablespoon for the recipe. You want this to be almost powder, otherwise the chunks are too heavy for the meringue and sink to the bottom. You just want the taste but not the texture.
For the baking, I baked these in an extremely low temperature oven. We cooked at 250 F for 50 minutes. Wait for the oven to reach the proper temperature before putting them in. Once the 50 minutes were up, I left them in the oven for about 10 more minutes with the oven turned off. After 10 minutes, I took them out, let them cool completely, and stored them in an airtight container. They should last for about 2 weeks.
If chocolate isn't your thing and you just want peppermint meringues, I can help you there. We did a 12 days of Christmas marathon a couple of years back, and this peppermint meringue recipe was included. All our Christmas themed recipes can be found under that category if you are in a hurry.
Give the recipe a try. I hope you enjoy it as much as I do. Happy Holidays!
Chocolate Peppermint Meringues
Print Recipe
Ingredients
2

egg whites room temperature

1/2

cup

superfine sugar

2

ounces

bittersweet chocolate shredded

1

tablespoon

peppermint candy finely crushed
Instructions
Preheat the oven to 250°F.

Using a box grater, slice/shred the chocolate. Don't let the chocolate melt on your hand. Stop for a minute if you need to.

In a bowl of your stand mixer fitted with the whisk attachment, beat the egg whites on low until frothy, then increase the speed to medium high and mix until stiff peaks form when you lift out the whisk, 5-7 minutes.

Turn the speed to low and slowly add the sugar, 1 tablespoon at a time. You will know this is done when the meringue holds on to the whisk and keeps the shape when you take it off.

Gently fold in the chocolate and peppermint using a spatula. Do not overmix.

Pipe the meringues, or drop by spoonful, onto a parchment lined baking sheet.

Bake for 50 minutes or until you can lift the meringues off the parchment without them sticking.
Recipe Source: SerenaLissy.com
All images and content are copyright protected. Do not use our images without prior permission.