We have made it to week nine on the nailed it or failed it blog series. We are still working from the book Bachour and learning something new every week. I loved the 40 second microwave cake so much last week from the praline semifreddo recipe, that I decided to continue on with the Pistachio Microwave Sponge Cake.
Pistachio Microwave Sponge Cake
Now this recipe didn't go as planned. It is slated for a remake one day once I restock the pistachio paste. The original recipe had a yield of 24 servings, which is way more than I or my willing tasters would ever need in one sitting. So I cut the recipe in half and planned for 12 servings. I thought it was odd that this recipe only had three ingredients when all other sponge cakes in the book had five to six ingredients and were much more of a liquid batter. The batter was then put into the iSi Whipper and refrigerated for the suggested three hours.
Once the three hours were up, I ended up having to spoon it out of the whipper, since it was too thick to actually come out of the whipper by the intended way. At this point I was going to scrap it, but figured, I came this far, I may as well see what happens in the microwave. What's the worst that could happen? A small explosion? I could live with that so I got the cleanup equipment ready. I pushed 40 seconds on the timer and stood back to see what happened.
There was no explosion and the cake did cook. It had a very nice flavor, but it was very dense compared to the microwave sponge cake I had made last week. I'm justifying that it needed to hold the lemon cream like a bowl. A light and airy would have not done the job and the lemon cream would have leaked out. Is the texture as Bachour intended? I don't think so. Normally I would have remade it right then, but swear words, I ran out of the pistachio paste. Hate it when that happens!
Reasons to Retest a Cake
After having worked at America's Test Kitchen, I have learned that retesting could take days to determine the actual problem of the cake, if there even is a problem.
The obvious things are:
1. It is actually the way it is supposed to be, and I don't know any better.
2. I could have incorrectly measured ingredients, or the scale has died.
3. My ingredients could be old.
4. The recipe could really be printed incorrectly, happens all the time in cookbooks.
For the first test, I will recreate the cake exactly as I have done today. That will let me know if ingredients were measured properly, and it will eliminate the question of if the ingredients were old.
If it turns out the exact same, I am left with reason number one, that's the way it is suppose to be, or reason number four, incorrect printing in the book.
Is Pistachio Paste The Same As Pistachio Butter?
Pistachio paste is a smooth creamy mixture that contains no salt, sugar or other ingredients. You can easily make paste at home if you have a food processor. It's just a matter of processor time. In as few as 5 minutes to 10 minutes you can go from raw pistachios, to crumbs, to powder to paste.
Fresh pistachio paste has a short shelf life. You can store it in an airtight container in the refrigerator up to 2 weeks, or you can freeze it for up to three months.
Easy Homemade Lemon Cream
This lemon cream is an easy recipe to make and it pairs well with many things. You can use this to fill many cakes or pastries or even use it as a spread on your favorite biscuit or muffin. Lemons are the highlight of the recipe so be sure to use fresh lemon juice. Never use bottled lemon juice for these recipes. You really want to enjoy the flavor of fresh lemons.
Next Steps
I'm going to print the recipe as written because all the other components were excellent. One day I will retest the sponge cake to determine if there is a texture problem or if that's how it's supposed to be. If you love pistachio, the pistachio paste is great to work with and left this cake tasting delicious, although very dense.
Give this pistachio sponge cake a try. I'd love to hear that I simply scaled out the ingredients incorrectly and it worked perfectly for you. If you are interested in any other recipes in this blog series, you can find all past weeks here.
Looking For More Recipes
Subscribe to my free newsletter to get new photography tips in your inbox monthly. Find me sharing new recipes and tips on Pinterest, Instagram, or Facebook.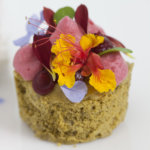 Pistachio Microwave Sponge Cake
Print Recipe
A Pistachio Microwave Sponge Cake recipe using pistachio paste. This recipe creates a dense sponge cake that is filled with a lemon cream.
Ingredients
Pistachio Microwave Sponge Cake
220

g

pistachio paste

180

g

egg whites

60

g

almond flour
Lemon Cream
Zest of 2 lemons

1/2

cup

granulated sugar

3

oz

lemon juice

2

large eggs

4

oz

unsalted butter softened
Raspberry Gel
250

g

raspberry puree

2.5

g

agar agar

1/4

cup

granulated sugar
Raspberry Foam
3/4

cup

raspberry puree

1

tbsp

granulated sugar

1/2

tbsp

Versawhip

1/2

tsp

xanthan gum
Instructions
Pistachio Microwave Sponge Cake
Process pistachio paste, egg whites, and almond flour in a blender and strain into an iSi whipper. Charge with 2 N2O chargers and refrigerate for 2-3 hours.

Make 3 small cuts in the base of plastic cups, shake whipper vigorously and fill each cup 1/3 full. Cook for 40 seconds in a microwave, flip cups upside down and set aside until cool.
Lemon Cream
Process zest and sugar in a food processor. In a saucepan, bring juice, sugar with zest and eggs to 165°F.

Transfer to a blender and process until smooth.

Add butter slowly until incorporated.

Pour into a container and refrigerate.
Raspberry Gel
Bring puree, agar agar and sugar to a boil in a small pot. Refrigerate until cool before processing in a Vitamix blender until creamy.
Raspberry Foam
Place all ingredients in the bowl of a stand mixer fitted with a whisk attachment and whip until light and fluffy.
Assembly
Place a sponge cake in the center of a plate.

Create a hole in the center and fill with lemon cream. Dot foam and gel around cake and garnish.
Notes
Recipe Source:
SerenaLissy.com
All images and content are copyright protected. Do not use our images without prior permission.
Here Are a Few Of Our Best Cake Recipes:
As an Amazon Associate and member of other affiliate programs, I earn from qualifying purchases. What that means is if you click on one of our affiliate links they may toss a few pennies our way for a commission.