Now for Something Sweet is the result of an intensive search to uncover, curate and celebrate the very best, most cherished sweet recipes perfected from Jewish homes across Australia and the world. The book will both entertain you day after day with its tasty recipes and make you feel good inside when reading their heartwarming stories.
This is the fourth book for the Monday Morning Cookbook Club for these ladies. The other three are best sellers and I have no doubt this one will add to the the list and probably make quite a few best baking cookbooks for 2020 lists. In addition to being a hit among their readers; it's already received rave reviews from other avid bakers across the country who were lucky enough to grab a copy of the book. It's undeniable that cooking for many is a passionate endeavor, and this book will be an invaluable resource in the kitchen. Whether you're looking to create something new or want some guidance on your next big dinner party, this book has got you covered!
From the book:
"We are always dreaming of soft, airy, pale chiffon cake. Thinking about chocolate swirled, glossy yeasted babke. Imagining flaky, chew, jammy strudel. Baking almond studded, citrus glazed Dutch buns. Frying golden, syrup drenched coiled fishuelas. Biting into hot, sugared jam filled donuts. Eating crisp shelled, marshmallowy vanilla flecked meringues. Feasting on sticky, steaming, sweet butterscotch pudding and sharing it all with abundance and love." – Monday Morning Cooking Club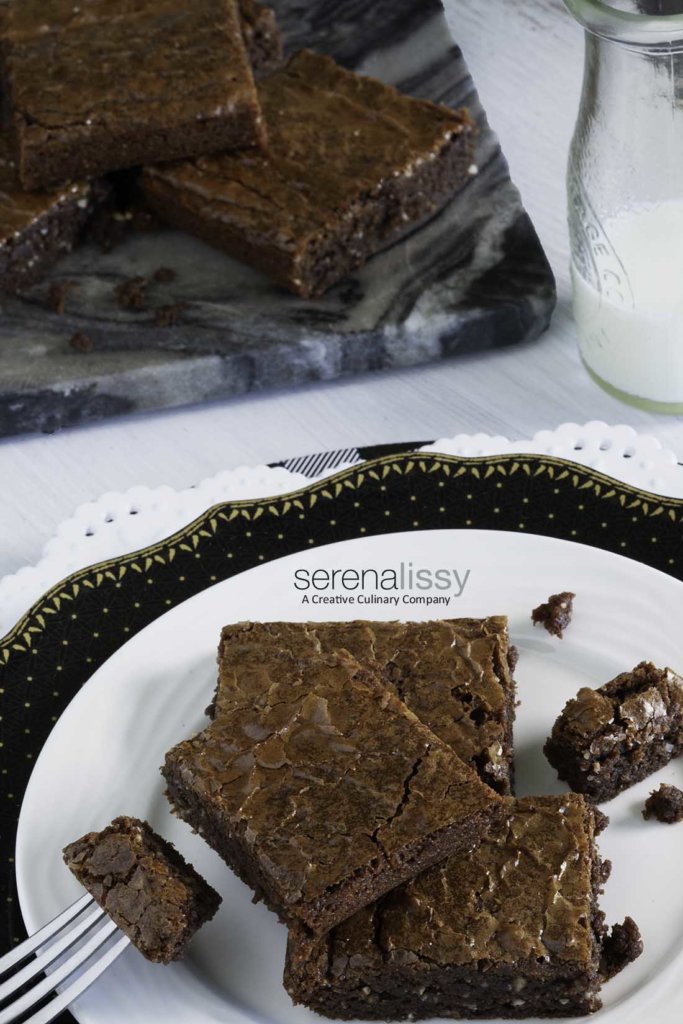 The range of recipes in this book goes from straightforward and simple to a bit more elaborate. Simply stated, it will be easy for you to find something that suits your taste. I tested two recipes from this book, and LOVED both of them and I can't wait to try others. The first was a flourless brownie. Now I'm going to start with GLUTEN FREE FOR THE WIN! I almost never make gluten free items, but now I know these are one of my favorites so they are worth the tiny bit of extra effort.
They utilized potato flour and almond meal in this recipe. The brownie turned out moist and fudgy not cakey, which is a result of using superfine sugar instead of granulated. The granulated sugar doesn't dissolve completely like superfine sugar. So if you are looking for a new brownie recipe to love, this might be it! And again, did I mention one of the best baking cookbooks of 2020? This book has a lot to offer in that category.
Baking tips:
Superfine sugar leads to moist and fudgy brownies.
Use the best chocolate you can afford to use. We used Valrhona chocolate in our brownies.
Carefully monitor your baking time. Nothing good about a burnt brownie.
Almond meal is not the same thing as almond flour (but it's easy to make at home)
The second recipe we made was the Almond Buttercrunch. When the recipe developer states that she gave up sweets during the entire pregnancy of her child and this is the first thing she wanted right after the birth. You know it's going to be good. And boy oh boy is it!
This recipe was so simple to make and you probably already have all the ingredients in your pantry. I don't think it took more than 30 minutes from start to finish. The biggest challenge was waiting two hours for it to firm and set once done cooking. And if I were misbehaving and just eating all I wanted to, I could have polished off the entire amount in 30 minutes!
Reasons I love the book:
All recipes in this book were easy to follow and clearly written. They have lots of tips throughout the book to help you along. Things like "How to Sugar" that walked you through the complete caramel making process. Caramel can be scary and intimidating, and I always love it when the books provide a little bit of support and help before you start. This reason alone, is one of the main reasons so many books don't make it to best baking cookbook category for me. It's a simple piece to add into the book, but so many don't do it.
If you find yourself picking up a copy of the book, please share and let us know what you are baking! If you would like to read other Friday Food Reads you can find our writeup on Ovenly, Homemade Decadence and 100 Cookies, all were great books.
Disclaimer: this post contains affiliate links, which means that if you purchase an item after clicking on the link, Amazon will toss a few pennies my way. This is at no extra cost to you, and as always, all opinions and recommendations are my own.