As a food photographer, I love the Snapseed app and believe it's one of the best photography apps for free you can have. With Snapseed, you can easily edit your photos to make them look like a masterpiece. However, with such an extensive toolbox and range of options for editing on this app, it may seem overwhelming during the editing process, even if you're already experienced in photo-editing apps! In our post, Getting Started With Snapseed, we take a step-by-step approach to showing how simple these tools are. As a result, you can quickly master the mobile app, even if you are a complete beginner to smartphone photography.
Oh, and did I mention it's a free app! And it's available for IOS and Android devices. This popular app has some pretty powerful features, and it works almost identical on Android or IOS devices. These are just some of the main reasons professional photographers utilize this app.
Download The Snapseed Photography App
First, you will need to download Snapseed from your phone's App Store for free for your mobile device. (Apple App Store or the Google Play Store is where you will get this) There are no hidden in app purchases or subscription fees.
Open An Image In Snapseed Photo Editor
In the Snapseed app, tap Open. This will take you to your phone's photo library. Next, tap the photo you want to open.
There are two Snapseed photo editing areas within the app; Looks and Tools. You can easily switch between these areas by tapping Looks or Tools at the bottom of the screen. We will mainly focus on Tools, although Looks are fun to play with if and are a great option if you have a specific Instagram look, or you want different photo effects, or a filtered look.
Improve Color And Exposure
The first thing I like to use in the app is the color corrections and the exposure adjustments. With just a few simple adjustments, you can take a dull photo and make it have much more life. First, open a picture and then tap Tools. You will see a Snapseed Photo Editing Tools menu as in the image below.
The Tune Image option allows you to adjust the color and exposure and a few other things. For example, the image below shows you how you can go from a dark, underexposed image into an image with great color and exposure. This is probably one of the best photo apps for quickly performing these tasks.
In the Tools section, tap Tune Image. Then, swipe up or down on your phone to open the Tune Image menu.
Tune Image Options That Affect Your Color And Exposure
Brightness: Brighten or darken your entire image.
Contrast: Increase or decrease the difference between the bright and dark areas.
Saturation: This makes the colors more or less vibrant.
Ambiance: Adjust color saturation and contrast at the same time.
Highlights: Darken or lighten only the bright areas of your image.
Shadows: Darken or lighten only the shadow areas of your image.
Warmth: Add a warm orange or cool blue color cast to your image.
Once you have chosen a tool, swipe left or right over your photo to make the adjustment. At the top of your screen, you can see the setting adjustments you made and a little icon that you can touch to see your adjustment before and after. Tap and hold the icon to see the original photo. Then, release your finger to return to the image you are editing. This is an easy way to know if you have taken the adjustment too far before clicking the checkmark and saving.
You can continue to use the Tune Image menu over and over. Just go through the same steps and choose another tool. Be sure to click the checkmark after each edit if you are happy with it and want to save it.
White Balance With The Photography App
The White Balance tool lets you enhance your photo by applying different color tints. I use this to enhance colors and correct unwanted color casts. You could also use it to change the mood of your image, although we don't use this much in the food photography category.
In the Tools section of Snapseed, tap White Balance. Next, swipe up or down to open the White Balance tools, then select a setting from the menu.
There are two tools in the White Balance category:
Temperature: This is used to make your colors cooler (more blue) or warmer (more orange).
Tint: Adds a bit of green or pink color tint to your image.
I use this to correct my image and usually make it warmer. I typically photograph on a table by a large glass slider. The slider has a film built into the glass to protect the home from sun damage and heat, which adds a blue cast to the images. So I add a touch of warmth here to correct the blue. Or you could use it to correct your golden hour image if you find it didn't have as much warmth as you had hoped for, or it was too warm, and you need to add a bit of blue to correct it.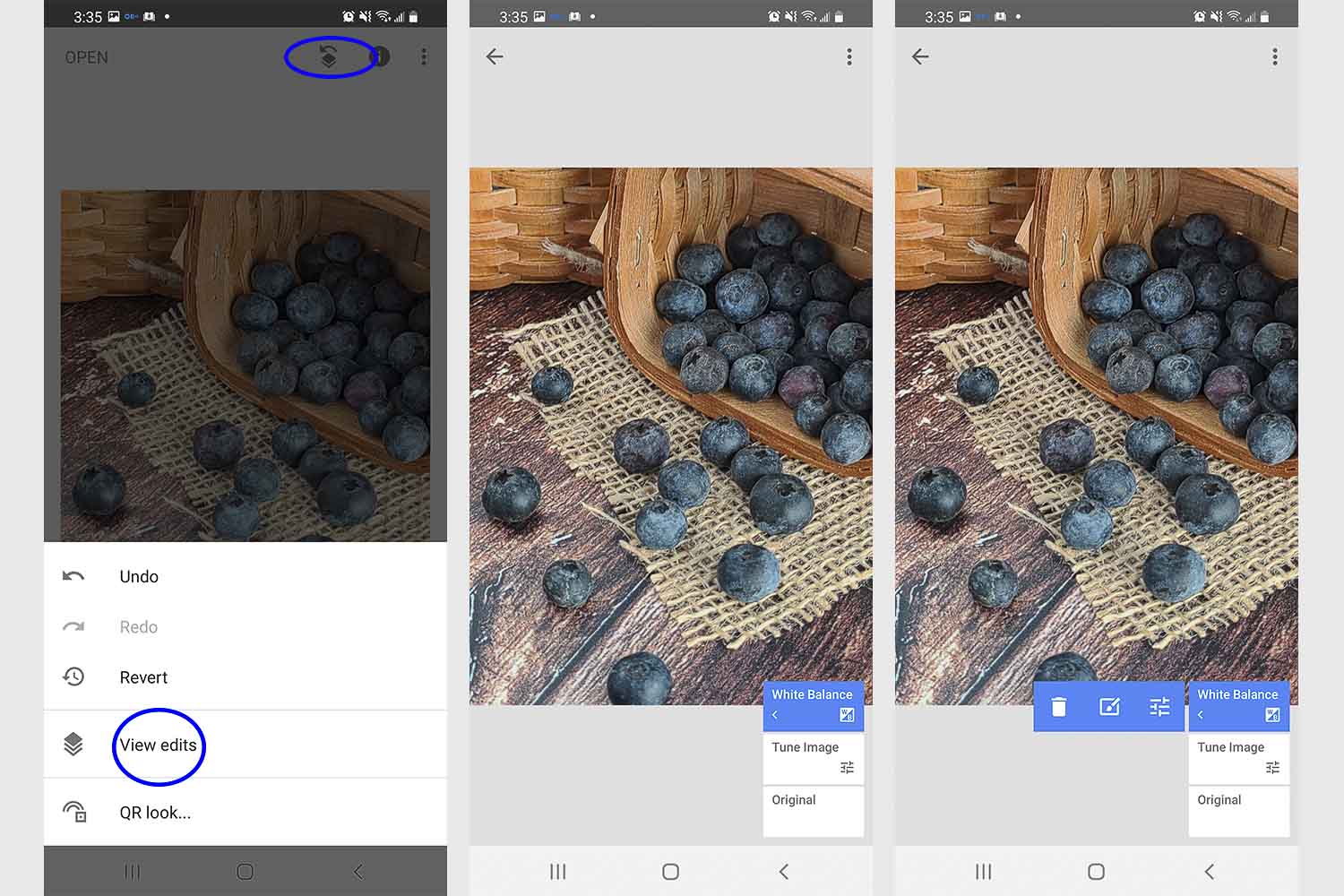 Modify Individual Edits
This is probably one of my favorite features of the app. Snapseed uses "non-destructive editing." This means at any time, you can go back to one of your last edits and make changes or delete. After you have made some edits tap the Edit History icon on the top of your screen. Then select view edits in the menu.
A stack of edits you have made will show up on the bottom right. See the image above for an example.
Tap on any edit, and Snapseed will provide you with three options:
Trash Icon: You can use this to delete your edit.
Brush Icon: You can use this to open up the masking feature. This is a bit beyond our post about getting started, but you can easily experiment with the advanced tools on your own.
Slider Icon: This will let you modify your edit. It will open up the editing tool and you can make changes to your edits.
Improve Composition of Your Images
Crop and Rotate are the primary tools I use here. I use the crop feature most for social media images. Usually square for Instagram or other social networks. Rotate I seem to mostly use when I don't use a tripod, and my picture is just slightly crooked, or something isn't perfectly level. These are powerful tools to quickly enable you to get the image you want for your Insta feed.
In the Snapseed Tools, select Crop. Select an aspect ratio. For instance, original, square, or 3:2. You could also choose free if you want to crop without any constraints. You get quite a few editing options with the crop tool.
Drag the corner handles to adjust the crop and select the checkmark once you are done.
In the Snapseed Tools, select Rotate. Snapseed will analyze your image and attempt to correct it. This is always hit or miss, and I prefer complete manual control. To rotate your image manually, drag your finger over the image and use the gridlines to get it straight. Checkmark to save once you have it where you like it.
A Great Way For Flawless Edits
If you are a fan of precise control to get great photos, this edit feature is perfect for serious photographers using mobile photography. The healing tool lets you easily remove unwanted objects from your image. You can see in the example below I had some stray fabric pieces from the muslin that I wanted to get rid of.
In the Snapseed Tools menu, select Healing. Next, pinch outwards with two fingers to zoom in on the area with the item you want to get rid of. You will see a dotted line around the area you are working on. Next, use your finger to brush over the object you want to get rid of. This will become highlighted in red. When you release your finger, the item gets replaced with pixels nearby.
If the result isn't what you wanted, click the curved back arrow at bottom of the screen to undo it. This tool sometimes takes some practice. So don't be too hard on yourself. Just give it a few tries, and you will see how easy it becomes.
Making A Selective Edit
The second tool that I like for editing is the Selective tool. This lets you edit different colors of your photos individually. After selecting a specific area of color, Snapseed will let me adjust the brightness, contrast, saturation, or structure.
In the Snapseed Tools, select Selective. Tap the area of color you want to adjust. For instance, see the image below. I wanted to change the brightness of the blueberries in the wicker basket. Once you tap the area you wish to adjust, Snapseed will place a small circle on your image. You will see four letters, BCSS. (Brightness, Contrast, Saturation, Structure) Select a tool, then drag left or right to adjust. Pinch in or out with two fingers to adjust the size of the adjustment area. The area affected will be highlighted in red. Now swipe up or down to access the adjustment options. You can always preview your adjustment with the preview icon, and then select the checkmark once you have what you like. You can add as many adjustment points as you want.
Save Your Snapseed Edit and Export Your Image
The Export feature of Snapseed is where there is a difference between Android and IOS. I'm attaching a screengrab of the most recent definitions from Snapseed as to the saving process for each operating system. At the bottom of your screen, you will tap Export. Depending on your operating system, you will have 2 - 3 options to pick from. On an IOS system, I prefer to use Save A Copy. This enables me to keep my original and edited versions in my photo gallery. On the Android system, I like to use Export. This allows me to keep my original and edited versions as well.
Snapseed: A Creative App That Provides Next Level Editing
One of the best photography apps out there is Snapseed. It's a great, free app that you can download from your mobile device's store and use to edit photos with ease! With this powerful toolbox at your fingertips, it may seem overwhelming when looking for all the options available on this app. However, even if you're already experienced in photo-editing apps like Photoshop or Lightroom, these beginner tools are easy to master with our step-by-step approach. Anyone can get more creative shots of their favorite food without any stress involved! So head over to our blog for some more fantastic cell phone food photography tips.
Looking For More Photography or Baking Tips?
Subscribe to my free newsletter to get new baking tips in your inbox monthly. Find me sharing new recipes and tips on Pinterest, Instagram, or Facebook.
As an Amazon Associate and member of other affiliate programs, I earn from qualifying purchases. What that means is if you click on one of our affiliate links, they may toss a few pennies our way for a commission.