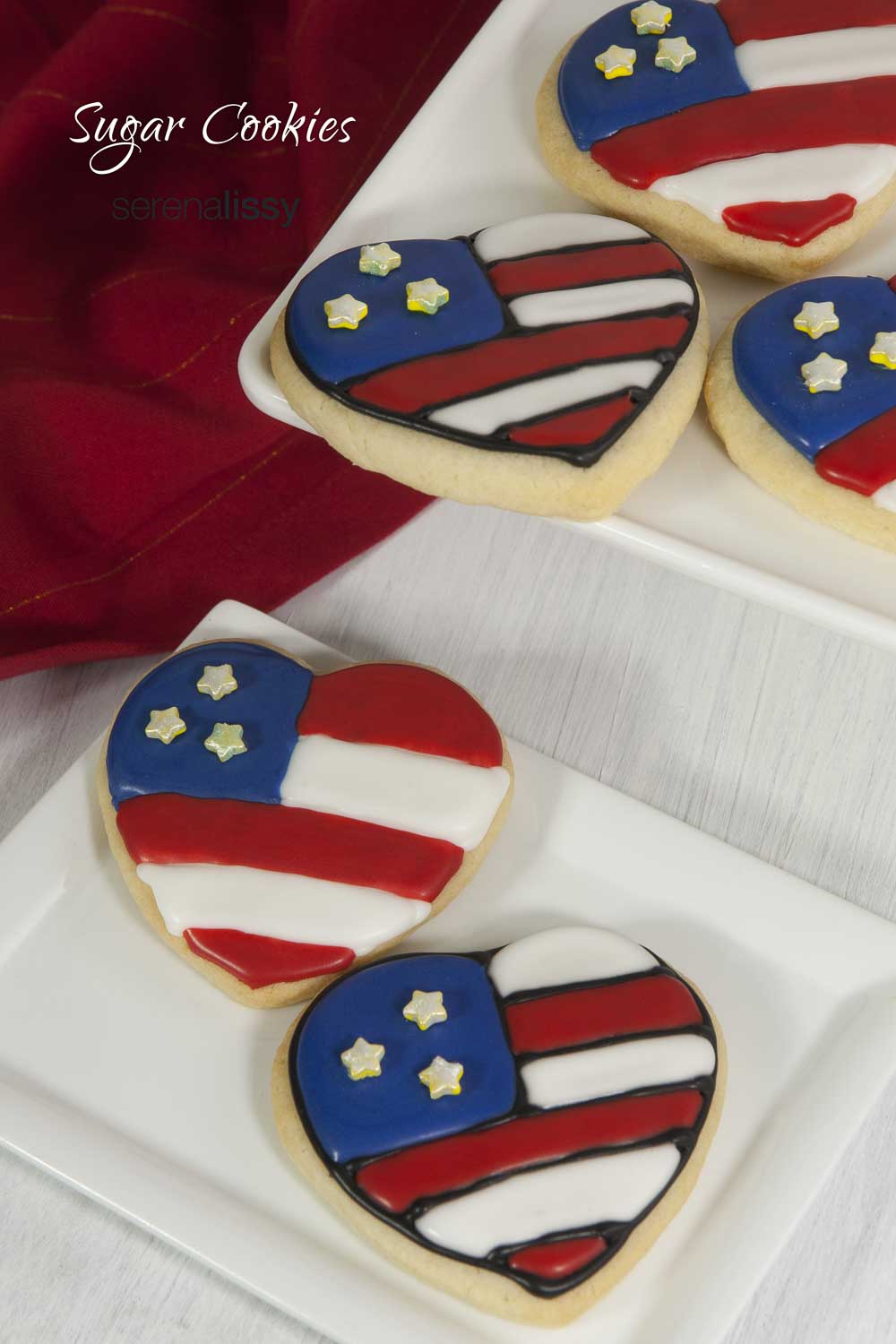 We make these sugar cookies all the time. They are one of my favorites since childhood. I know most people have these cookies in the fall, pretty much starting out with Halloween and going right on through Christmas. I think they should be a year round treat! August you could do back to school cookies with a fun design. If you thought about it, you could easily create a cookie theme for all 12 months. I know I could!
They are so simple to make, and turn out as buttery little bits of heaven. Now, I'm lucky in that I have a boatload of cookie cutters. Or maybe not, if you think about the cabinet space it takes to store these. So this year we have decided that anyone can have sugar cookies with just one cutter. For these cookies we used the heart mold. You could also do the exact same decoration with a round 3″ cutter, or even a square cutter. These cookies keep their shapes when baking and come out soft and flavorful, which make them perfect for decorating.
Now for these cookies I recommend you use a stand mixer for this. It helps to get the ingredients mixed in evenly. I also watch the mixer pretty close so I don't over mix. I like using a cutter for these so I can keep all the sizes the same. We do refrigerate the dough. I think it yields a better product. I know there could be debates about this for hours from everyone out there.
I am going to say that these took a bit of time to prepare. I like to wait until the icing is dry so it doesn't bleed into other colors. It wasn't that I was working on them the entire time; it's just the drying time. Some of the cookies had a black outline, others didn't. It's entirely up to you on that one. We piped the blue first, then the white, then the red. If you are adding the black outline, do that before the red or white. For the stars, we just used sprinkles. You could easily pipe them or just use silver dots instead if you want them to be easy.
There is nothing special about our royal icing recipe you could get probably 500 other versions on line if you prefer.
Royal Icing:
2 pounds confectioners sugar
1/4 cup meringue powder
2 tablespoons light corn syrup
1 teaspoon almond extract
warm water
gel food color, red, blue and black (if you want borders)
1. Add the sugar, meringue powder, corn syrup and almond extract into your mixer bowl.
2. Slowly add warm water to the sugar mixture and continue to blend on low speed until you have the consistency to pipe. (Adding more water will make it thinner, and less water will be thicker.)
3. Once you have the consistency you are looking for, separate the icing and add colors. Keep the icing covered, it's important so it doesn't dry out while you are working on the decorations.
Sugar Cookies
Ingredients
13.25

ounces

sugar

12

ounces

butter

4

eggs

1

teaspoon

vanilla

23.5

ounces

AP flour

2

teaspoons

baking powder

1

teaspoon

salt
Instructions
Line a sheet pan with parchment paper.

In the bowl of a stand mixer with the paddle attachment, beat the sugar and butter until pale and fluffy.

Add the eggs and vanilla and continue to mix until incorporated.

In a separate bowl stir together AP flour, baking powder and salt.

Add the dry mix into the mixer bowl and hand stir until incorporated.

Lay out a large piece of plastic wrap and put 1/2 of the dough onto the wrap.

Cover with plastic wrap and mold into a disk. Do the same with the other half of the dough.

Refrigerate for 3-4 hours.

Once dough has finished chilling, heat oven to 350°F.

Generously dust a clean surface with flour and roll the dough out to 1/4 inch.

Use a cookie cutter to cut out shapes and a spatula to transfer them to the baking sheet.

Bake at 350° for 7-10 minutes or until edges begin to turn lightly golden brown.

Remove from oven and let cool on the pan.
Recipe Source: SerenaLissy.com
All images and content are copyright protected. Do not use our images without prior permission.
Now if you find you aren't a sugar cookie lover we have a few summer ice cream recipes you might like instead. Have a safe and happy 4th of July!