Like everyone else out there, we got an Instant Pot on Black Friday from Amazon. I have heard great things about this little gadget and I could resist no longer. I will say it took me a little while to open it. With the holidays, our chocolate shop was swamped, and we just had no time. And I'll also say, it was a wee bit intimidating. There is something scary about a pot that can blow up at any moment! I know I'm not alone in that thought, right?!? But sooner or later, I had to break it in, and what better way than a mouthwatering, delicious triple chocolate cheesecake?
Cheesecake in the Instant Pot?
The day finally came after Christmas. I decided to give it a go. I read the instruction manual about 100 times. I can probably still recite it (it's not that much info). I then went for the water test to make sure it heated up properly and there were no issues. All was good so far. Now, what to cook?
Everyone said how easy cheesecake was, so I figured why not. The first cheesecake I made was a New York-style topped with caramel and pecan brittle bark. I was amazed at how easy it was and how perfectly cooked it was. Hmmm, I thought. What else could I try? Of course, chocolate things are always the goal for me, so I figured why not try an easy chocolate cheesecake recipe in the instant pot. I did some research and saw a recipe in The Great Big Pressure Cooker Book for chocolate cheesecake. I gave it a go. It was good but needed a few modifications, like more chocolate. After some testing, we came up with the instant pot triple chocolate cheesecake.

Ingredients in Instant Pot Triple Chocolate Cheesecake
The ingredients in this are pretty simple. The best advice I can give is to use the best chocolate you have access to. It really does make the flavor so much better. We use Valhrona for almost everything.
Oreo cookies
Unsalted butter
Cream cheese
Dark brown sugar
White sugar
Whole egg
Egg yolk
Sour cream
53 - 60% chocolate
Vanilla extract
Flour
Cocoa powder
Chocolate
Whipping cream
What Does Cocoa Percentage Mean?
This is the weight of the bar that comes from cocoa butter and cocoa liquor. Which combined is cocoa mass. We will call this the cacao content. So if we are using a 65% chocolate, that tells me that 35% of the chocolate comes from non chocolate items. That could be things like cane sugar, milk powder, vanilla.
There is More to it Than Just a Percentage of Chocolate
The difference in percentages doesn't tell you anything about the quality of beans, or how they were processed. Fermentation, drying and roasting are just as important as the percentage of cocoa solids to bring out those beautiful flavor notes!
If you're not sure which chocolate to buy, don't just think of the cocoa content when making your decision. The taste of a bar can vary depending on what kind of palate you have and how high quality the beans are. No matter how high or low the cocoa percentage on a bar of chocolate, your taste buds will do just fine picking out whether it's delicious or not.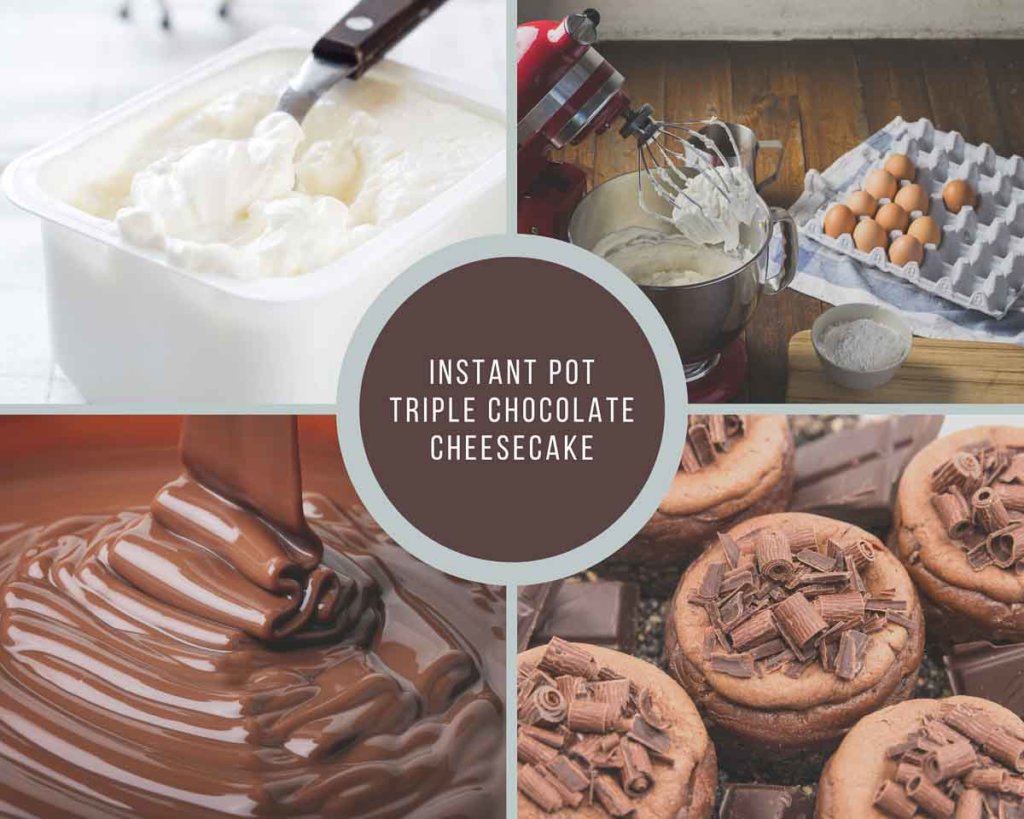 How to Make the Triple Chocolate Cheesecake With Oreo Crust
The steps to make this Triple Chocolate Cheesecake are quite simple. We mixed the ingredients in a food processor, but you could easily use a blender.
Combine crushed Oreos and melted butter to form a crust. Press into the springform pan and freeze for 10 minutes.
Combine cream cheese with your sugars and cocoa powder. Once combined, add eggs one at a time. Add the melted chocolate and sour cream. Pulse to continue to combine the ingredients.
Scrape down the bowl and add vanilla and flour. Mix until creamy and then pour into your springform pan on top of your crust.
Pour two cups of water into the bottom of the instant pot and lower in your springform pan using a tinfoil sling.
Cover and set to seal and cook at high pressure for 28 minutes. Note: This does not include the time it takes for the Instant Pot to reach full pressure.
Allow for a 15-minute natural pressure release before opening the instant pot and removing the cheesecake.
Cool overnight in the fridge before topping with ganache and serving.
FAQ
How Do I Get the Cheesecake Pan In and Out of the Instant Pot?
1. Make a tin foil sling.
2. Get a piece of foil about 21 inches long. Fold it in thirds length wise like you would a letter.
3. It's now ready to use for lifting the cheesecake in and out of the instant pot.
4. If you don't want to make a tin foil sling, you can easily grab a nice silicone one that should last you the life of your instant pot.
How Do I Know When the Cheesecake is Done?
1. The middle needs to be set.
2. You are looking for an internal temperature of about 150° Fahrenheit.
3. Use an instant read thermometer for this or go with the jiggle test.
What Do I Do If My Cheesecake Cracked?
Here is where creativity comes into play. Your cheesecake will be covered in chocolate so you don't really see that much. But if you don't want the ganache topping, you could cover it with whipped cream or even berries.
Can You Freeze Cheesecake?
Yes you can! Most cheesecakes will last about a month in the freezer. You can freeze it whole or cut it in slices for easier access when you are ready.
Steps to Freezing a Triple Chocolate Cheesecake
1. Allow your cheesecake to cool completely.
2. Slice and wrap with plastic wrap. If you are keeping it whole, just wrap with the plastic.
3. Once it's wrapped in plastic, then wrap a second time, but with foil.
4. Most important, when you are ready to eat the cheesecake allow to thaw at room temperature for 2-3 hours, or leave in refrigerator overnight.
Can I Bake In The Oven If I Don't Have An Instant Pot?
Yes, you can. Place cheesecake in a 325° Fahrenheit preheated oven in a water bath. Be sure to wrap your springform pan with foil to prevent any water from seeping in. Cook for about 60 minutes and start checking for doneness. You are looking for an internal temperature of 150° Fahrenheit. It could take up to 70 minutes, depending on your oven.
Special Equipment Needed to Make Triple Chocolate Cheesecake
Obviously this recipe requires an Instant Pot.
We also used a 7-Inch Round Springform Pan
. These are the only special requirements for this recipe.
This is over the top decadent. Super rich and a little goes a long way. But soooooo good! We have now made four chocolate cheesecakes, and everyone I know has broken all New Year resolutions for weight loss.
I hope you enjoy it as much as we did. Happy New Year!
More Cheesecake Recipes You'll Love:
Looking For More Recipes?
Subscribe to my free newsletter to get new recipes in your inbox monthly. Find me sharing new recipes and tips on Pinterest, Instagram or Facebook.
I Just Want to Watch, Where is the Video?
If you would like something other than ganache on top we made a Raspberry Mousse Chocolate cheesecake, and if chocolate isn't your thing at all, we also have a pumpkin cheesecake in the Instant Pot.
Instant Pot Triple Chocolate Cheesecake
This Instant Pot Triple Chocolate Cheesecake is over the top and you won't believe how easy it is to make!
Print
Pin
Rate
Ingredients
Crust
20

whole Oreo cookies

4

tablespoon

of unsalted butter melted then cooled
Cheesecake
1

lb

room temperature cream cheese (At least 2 hours at room temp)

¼

cup

packed dark brown sugar

¼

cup

white sugar

1

whole egg - room temperature

2

egg yolks - room temperature

¼

cup

sour cream

8

oz

chocolate 53% - 60% Melted

1

teaspoon

vanilla extract

1

tablespoon

flour

1

tablespoon

cocoa powder
Ganache
¾

cup

chocolate

3

oz

heavy whipping cream
Instructions
Spray the 7" springform pan with cooking spray.

Add two cups of water to the instant pot and place the rack on the bottom.

Make a tin foil sling to lift the cheesecake in and out of the instant pot.
Crust
In a food processor combine the whole Oreo cookies and the butter.

Pour the crumb butter mixture into the bottom of the pan and pat until even and going up the sides of the pan. Put in freezer for 10 minutes.
Cheesecake
In a food processor, mix the cream cheese with dark brown and white sugar, and cocoa powder.

Once combined, add one egg followed by the 2 egg yolks.

Add the melted chocolate and sour cream.

Continually scrape the bowl down. Add vanilla flour and mix until creamy.

Pour mixture into the springform pan and smooth with a spatula.

Place pan on the tin foil sling and slowly lower into the Instant Pot.

Set Instant Pot to maximum pressure for 28 minutes.

Once done, turn machine off and let it return to normal pressure for 15 minutes.

Unlock lid and use sling to transfer pan to cooling rack for an hour.

Chill in refrigerator overnight.
Ganache
Put the ¾ cup of chocolate in a bowl.

Heat the heavy whipping cream to a simmer. Pour over chocolate.

Chocolate will melt, stir until incorporated. Once incorporated, use a spatula and spread over the top of the cake.

Put back in refrigerator to cool.
Notes
Recipe Source: SerenaLissy.com
This website provides approximate nutrition information for convenience and as a courtesy only.
Nutrition data is gathered primarily from the USDA Food Composition Database via Spoonacular API, whenever available, or otherwise other online calculators. While this information can be helpful in estimating the nutritional information of a recipe, it is by no means accurate or official and is not evaluated by the Food and Drug Administration.
All images and content are copyright protected. Do not use our images without prior permission.
Nutrition
Serving:
1
Serving
|
Calories:
809
kcal
|
Carbohydrates:
90
g
|
Protein:
19
g
|
Fat:
46
g
|
Saturated Fat:
25
g
|
Polyunsaturated Fat:
3
g
|
Monounsaturated Fat:
15
g
|
Trans Fat:
1
g
|
Cholesterol:
146
mg
|
Sodium:
755
mg
|
Potassium:
540
mg
|
Fiber:
5
g
|
Sugar:
69
g
|
Vitamin A:
668
IU
|
Vitamin C:
1
mg
|
Calcium:
331
mg
|
Iron:
6
mg
As an Amazon Associate and member of other affiliate programs, I earn from qualifying purchases. What that means is if you click on one of our affiliate links, they may toss a few pennies our way for a commission.